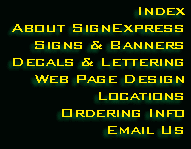 1998 SIGNEXPRESS
Thankyou for visiting!
signs@mts.net
Designed & Maintained by:
©1998 Signexpress

Welcome to SIGNEXPRESS! We hope that you will find this page to be informative and helpful as you search for sign information.

Please consider Calling or E-Mailing us for a quote for whatever you are looking for, and we can provide all your sign solutions in one stop.

Choose a topic from the left to start browsing this page now!


INDEX | ABOUT SIGNEXPRESS | SIGNS & BANNERS
DECALS & LETTERING | WEB PAGE DESIGN | LOCATIONS
ORDERING INFO | EMAIL US
1998 SIGNEXPRESS